All you need to know information about the William Heavenhill (WHH) bottling, an annual release by Heaven Hill Distillery which showcases unique and special bourbon bottlings by the distillery.
| | | | | |
| --- | --- | --- | --- | --- |
| Release # (newest first) | Description | Aged (yr) | Proof | Release Date |
| | | | | |
| 8th William Heavenhill | Bottled in Bond | 13 | 100.0 | June 2020 |
| 7th William Heavenhill | Barrel Proof | 12 | 134.4 | May 2019 |
| 6th William Heavenhill | Small Batch | 16 | 106.0 | May 2018 |
| 5th William Heavenhill | Single Barrel | 14 | 115.0 | July 2017 |
| 4th William Heavenhill | Cask Strength | 15 | 144.6 | 2015 |
| 3rd William Heavenhill | Bottled in Bond | 11 | 100.0 | March 2014 |
| 2nd William Heavenhill | Signature | 18 or 13? | 127.6 | June 2012 |
| 1st William Heavenhill | Signature | 18 | 127.6 | June 2008 |
WILLIAM HEAVENHILL Release NOTES: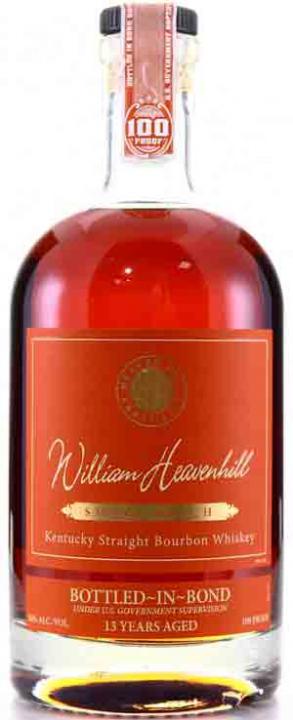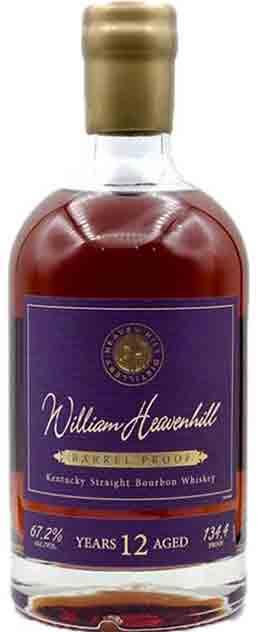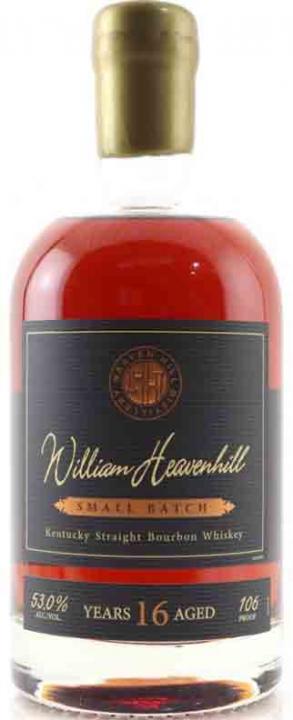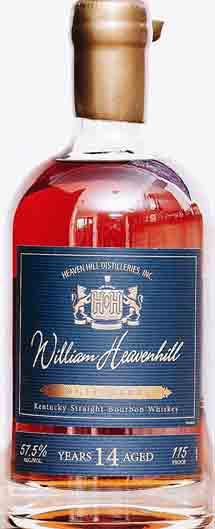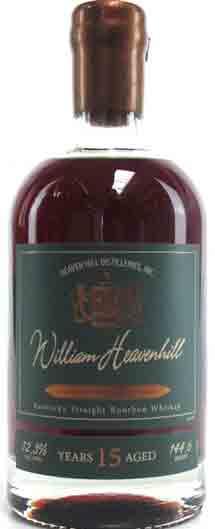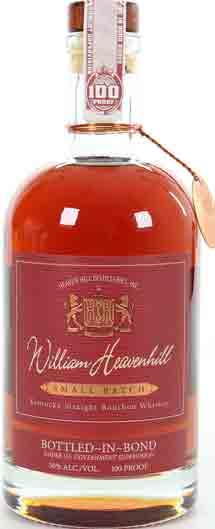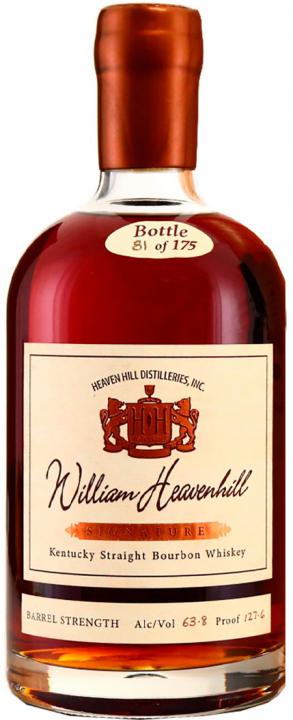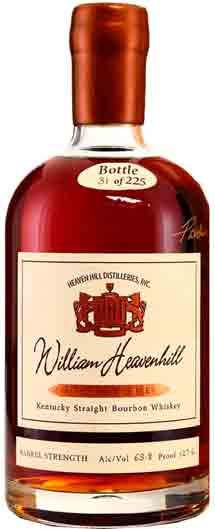 WHH 8th Release: ORANGE LABEL William Heavenhill 2020 is the 8th edition release showcasing their prized Bottled-In-Bond bourbon. The William Heavenhill bourbons are mostly available at their Heaven Hill Bourbon Heritage Center gift shop. This one has spent 13 years on the 4th floor of rickhouse AA in Schenley, where the old Fairfield and Schenley (Bernheim) distilleries used to stand. A total of 35 barrels qualified for this release that entered the barrel in 10/19/2006 and was bottled at 100 proof without chill filtration. MSRP=$250
WHH 7th Release: PURPLE LABEL William Heavenhill 2019 is the 7th edition This seventh edition of William Heavenhill is an extremely limited and unique offering. It has been aged for 12 years on the 10th floor of Rickhouse 1K, a brick warehouse located at the historic Bernheim distillery. Comprised of only 35 barrels, this small batch results in a finely balanced Bourbon with a smooth finish. This limited bottling is at barrel proof and non-chill filtered.
WHH 6th Release: BLACK LABEL William Heavenhill 2018. This sixth edition of William Heavenhill is a limited and unique offering. Less than 60 barrels make up this edition, but they have been dumped into separate small batches to preserve each warehouse's unique aging effect on the barrels. The first batch was made from 15 barrels aged on the 5th floor of Rickhouse H. The second small batch of 15 barrels has been aged for 16 years in Rickhouse Y on the 5th floor. Another small batch was made of 16 barrels aged on the 6th floor of Warehouse DD.
The barrel proof has been cut to 106 for a rich, well-balanced Bourbon, which makes the perfect adition to any whiskey collection.
WHH 5th Release: BLUE LABEL William Heavenhill 2017 is the 5th edition and Heaven Hill decided to showcase a single barrel 14 year old Kentucky Straight Bourbon with Mashbill: 75% Corn, 13% Rye, 12% Malted Barley. This bourbon was aged in their U rickhouse on the 3rd floor. 30 barrels were chosen to comprise this release and each was proofed down to 115 proof. Most WHH 2019 bottles contain bourbon that entered barrels in Feb 2013 and bottled in April 2017. MSRP=$250
WHH 4th Release: GREEN LABEL William Heavenhill 2015. This fourth edition of William Heavenhill Named after the company founder, William Heavenhill, is 15 years old and was bottled at a whopping 144.6 US Proof, also known as "hazmat proof." This is the 4th release was matured in Rickhouse I, using 5 'larger than the typical size' barrels. Bottled in 2015.
WHH 3rd Release: RED LABEL William Heavenhill 2014, the third edition of the extremely rare William Heavenhill offering. Kentucky Straight Bourbon Small batch Bottled in Bond blend is comprised of less than 12 barrels from the Heaven Hill Bottled In Bond warehouses. It is a bottled-in-bond mix of 11-year+ old bourbons selected from Heaven Hill stock by Master Distillers Craig and Parker Beam. MSRP=$130
WHH 2nd Release: WHITE LABEL William Heavenhill 2012 A cask strength Heaven Hill Kentucky Straight Bourbon 2nd release. Only 175 (in reality there was ONLY 113 confirmed with Heaven Hill Distillery and half of those went to the Japan market) bottles were produced at 18 (or possibly 13) years old and was sold in June 2012.
WHH 1st Release SIGNATURE: WHITE LABEL William Heavenhill 2008 A cask strength Heaven Hill Kentucky Straight Bourbon released to commemorate what would have been founder William Heaven Hill's 225th birthday. Only 225 bottles were produced at 225 months (18 years) old and was sold in 2008 for $500 a bottle. MSRP=$500
This post was edited by admin at December 15, 2020 2:59 PM PST