Boss Hog Release Info by Whistle Pig Distillery
The "Boss Hog" Rye Whiskey releases are a yearly release of specialized barrels.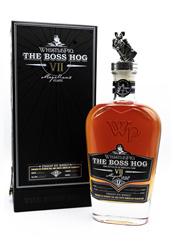 2020 THE BOSS HOG VII: MAGELLAN'S ATLANTIC
Single Barrel Rye 17yr 105.1 - 107.8 proof. 2 Cask Finishes MSRP=$499
The Boss Hog VII: Magellan's Atlantic is a Straight Rye Whiskey with an uncharted cask journey that stretches across continents. After seventeen years of slumber in American Oak, it first encounters new Spanish staves from the mountainous forests of northern Spain (Cantabria). Then, crossing the Atlantic the whiskey finds its last finish in fragrant South American teakwood. The 17-year-old straight rye whiskey spends three weeks resting in Spanish oak before finishing in South American Teakwood for just three days. Released OCT 2020
2019 THE BOSS HOG 六: THE SAMURAI SCIENTIST
Single Barrel Rye 120 – 122 proof.
American Whiskey finished using Japanese Umeshu, the result of a true collaboration between WhistlePig and Kitaya brewery on Japan's Kyushu island. Each bottle is adorned with The Samurai Scientist – Jōkichi Takamine – who pioneered koji fermentation in the American whisky industry over a century ago.
2018 THE BOSS HOG V: THE SPIRIT OF MAUVE
Single Barrel Rye 13yr 120 – 122 proof.
This 5th. edition of The Boss Hog, The Spirit of Mauve, is a 13 Year Straight Rye Whiskey finished in Calvados Casks in honor of our celebrity pet pig, Mauve's undying love of apples.
2017 THE BOSS HOG IV: THE BLACK PRINCE
Single Barrel Rye 14yr 119.2 proof. FINISHED IN ARMAGNAC BARRELS
This IVth. edition of The Boss Hog, The Black Prince, is a tribute to the great spirits of Europe. This is the first Rye Whiskey ever finished in Armagnac casks, straight from France.
WhistlePig Company Info: Founded in 2008 by Raj Peter Bhakta, the Vermont-based brand released its first own bottling in 2015.They have been bottling rye from Alberta Distillers and others pior to that. WhistlePig purchased a stock of 10-year-old blendable whiskey from a Canadian distillery to kick off the business.
Dave Pickerell was the Master Distiller at WhistlePig until his death in 2018. He hooked up WhistlePig with its first stock of Canadian whiskey, helped create the brand's first blend, WhistlePig 12 Year Old World Cask Finish Rye, and designed WhistlePig's copper pot still, which the distillery still uses daily.
This post was edited by admin at December 21, 2020 8:49 AM PST