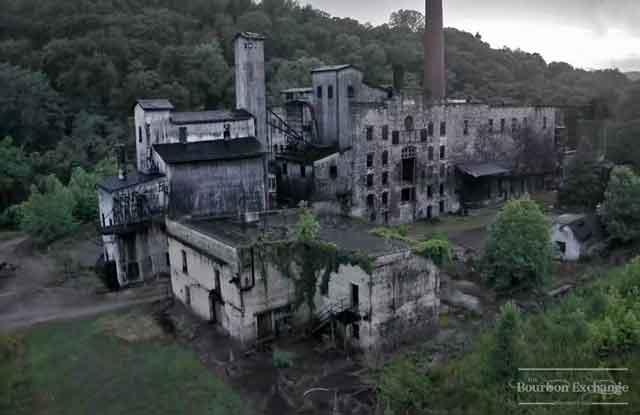 Circa 2015
Old Crow Distillery:
Old Crow Distillery was founded in 1835 Old Crow Distillery did not open until 1872, 16 years after Crow had passed away.1 The facility owned by Gaines, manufactured Old Crow Whiskey, and was one of the first nationally-known whiskey brands.
The bourbon produced at Gaines was named after Crow's famous whiskey using Crow's recipe called "Old Crow." 5 7 A dispute over ownership of the name "Old Crow" was decided in 1915 in favor of the Gaines company. 6
Old Crow's logo, a crow perched atop grains of barley, was symbolic of a bridge between the North and the South during the Civil War. It came about after a Pennsylvania brigade training at State College, Pennsylvania thought Old Crow was the only good thing to come from the south. Fearing not being able to drink Old Crow again, the soldiers wrote to President Lincoln proclaiming that "we must not let the fine gentlemen Old Crow escape" and that "the crow with the sharpest talons holds on to barley forever." After the war concluded, the logo, which was a picture of James Crow, was swapped for the crow.
National Distillers purchased Gaines in 1934 7 where the brand expanded, becoming one of the first national whiskey brands.
After World War II, National Distillers began focusing on industrial distilling processes. 7 During the 1960's, Old Crow was refurbished with new equipment. National Distillers also modified the amount of setback was changed, or the part of spent mash added to a new batch in the sour mash process. Sales began a slow but steady decline and in 1987, National Distillers sold their remaining interests in Old Crow to James Beam Distilling (Jim Beam). The plant was closed although some of the barrel houses were reused for storage by Jim Bean. Three barrel houses, due to their age, were abandoned in the 1990's. 4
Old Crow Distillery - Rebirth:
Scrappers (called themselves wood reclaimers) came in and dismantled the copper column distiller and other metals throughout the complex in the early 2000-2005. 3
Neil Craig, a descendant of whiskey pioneer Elijah Craig, and his partner, David Meier, purchased the abandoned distillery in December 2013. 3 The partners intended to rehabilitate the bottling house for Deviant Distillers, producing bourbon, rye, "moonshine," and spiced rum. The custom-built steam-jacketed copper pot still, from the experimental Lost Spirits Distillery in California, would have a capacity of 60 gallons per day.
Deviant Distillers is now owned by Meier as Glenns Creek Distilling.
The result from Glenns Creek is a pot distilled, hand-crafted, single barrel strength bourbon that is made like Dr. Crow did. OCD #5 Bourbon is created from a wild yeast collected from one of the original fermentation tanks in the Old Crow Distillery, which gives it a unique historical feel and some say...taste.
Dr. James Crow:
James Crow was born in 1779 in Scotland, attending Edinburgh University where he studied medicine and chemistry. 1 Crow moved to Philadelphia after graduating in 1822 and then to Kentucky in 1823.
Dr. James Crow began working for Colonel Willis Field at Grier's Creek Distillery in 1835 where he applied scientific methods to the production of bourbon. x 1 With the use of thermometers, hydrometers, and pH meter checks, Crow standardized the sour mash process and improved quality and increased production. 1
Crow later moved to Old Oscar Pepper Distillery (later the Labrot & Graham Distillery and Woodford Reserve Distillery) where he first produced his Old Crow brand of bourbon. 1 He later moved on to the Johnson Distillery, which later became the site of the Old Taylor Distillery, working there until his death in 1856.
Crow's work was succeed by William F. Mitchell. 1 Using Crow's meticulous notes, he was able to replicate most of his predecessor's processes. He left Old Oscar Pepper and went to work for W.A. Gaines at the newly formed Gaines, Berry & Company in 1872. Gaines, was constructing a new distillery adjacent to the Johnson Distillery with work completed in 1882.
ORIGINAL SOURCES:
Lipman, John F. "The GHOSTS of WHISKIES PAST." 1999. 14 July 2005 Web Article.
Cowdery, Charles K. "Distillery Destruction — Saving Kentucky's Heritage." 7 Apr. 2005. TheCulturedTraveler. 14 July 2005 Web Article.
Hogan, Meghan. "Low Spirits in Kentucky." 23 June 2005. Preservation Online. 14 July 2005 Web Article.
This post was edited by admin at November 18, 2020 3:23 PM PST